You are loving everything about your new house. The layout, the space, the yard, the interior, and the accents all show the world a lot about who you are and what you like. But, you still haven't found that one something special to make one of your spaces pop. You want something that can be made to fit your style but still be a standout piece. The thing you may be looking for is a mirror that reflects not only what you already have completed but also your complete sense of style.

First, there are a lot of great options for mirrors. Long gone are the days of just simple shapes in classic frames. If you like a flare for dramatic statements, why not think about a mirrored star burst. It's like adding a little sunshine directly into your home. Or, you could get funky with the shape. "Teardrops, arches, diamonds, and porticos are popular options." Nor quite the rectangle you were picturing anymore is it?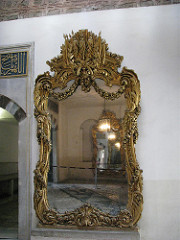 Another fun idea is to get outside the box with the framing. Deep set woven frames create a visual depth that is really quite engaging. Or, maybe you want something really special for the frame? "One beautiful trend that has revitalized interest in an ancient form of craftsmanship is bone-inlaid frames." You may be shocked at how warm these pieces actually are since most don't immediately combine these two concepts together.
Lastly, you can use placement to make a huge impact. What about putting something in front of the mirror to add visual interest. You can now readily get shelves that attach right to your basic mirror allowing for some stunning reflections. Even better, put it somewhere unusual. Floor mirrors are perfect for this since they allow both stand up function and a full view of a much larger area.
These are just a few ways you can use mirrors to really change the appearance of your home. Who knows, you may find a new design concept that is perfect for you and your family. Success looks stunning on you.
###
SOURCE: http://www.newhomesandideas.com/new-home-decoratin…
PHOTOS: https://www.flickr.com/photos/igorvita/ – Infinite Mirrorsand https://www.flickr.com/photos/shavejonathan/ Mirror 1